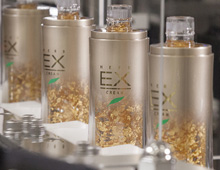 Produced using the most advanced equipment in Japan
In order to assure a high quality and production rate, we use a fully-automated system with the most advanced technology. With this system, we can guarantee high productivity and performance levels. A deviance of even 0.1 grams would cause the product to be rejected.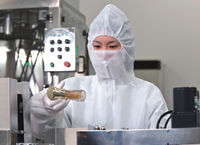 Professionally Scrutinized Quality Control
In addition to using advanced manufacturing technology, we also conduct strict quality control checks by highly trained and experienced professionals. We take a wide assortment of measures to ensure the quality production of genuine Royal Cosmetics products.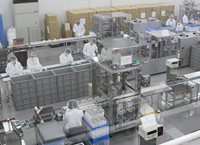 Produced in an ISO Class 7 Cleanroom Environment
We produce all our products at an ISO Class 7 level of cleanliness—recognized as an ideal level for safe and reliable products. This level, high enough for the production of precision instruments, means that our staff must use an air shower before entering the production area, and that the area is kept clean of even a single strand of hair.

Observation Deck to Better Understand Our Quality Obsession
At our Yamagata factory, we have installed an observation deck to allow visitors to view the production process. We hope that by doing so, people can feel our obsession for producing quality cosmetics. Furthermore, we hope to foster relations with the local community by allowing them to see what we do.